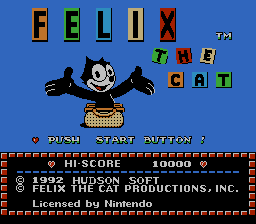 Okay, here's a little story. A number of years ago, I was at Red Robin with my family, and the TVs they had in the place were showing old Felix the Cat cartoons. There was one where Felix was trying to evade some foe by hiding in a barrel or something. He then fashioned the barrel into an airplane, and when the foe hit his head and got stars spinning over him, Felix grabbed the spinning stars and stuck them on the front of his barrel-plane to serve as the propellor. Ever since then, I've been "gay for Felix."
The reason I'm reviewing this game now is that Something Awful just did so, and their review was the single least funny thing I had ever seen. I've gotten more amusement from a picture of a dead cat. Fuck you, Something Awful. This is how you half-assedly review an ancient NES game no one cares about in an amusing way.
THE GAME
Like most cartoon-based games released in the waning years of the NES, Felix the Cat is a side-scrolling adventure game in which you jump on platforms a lot. Following the iron-clad laws of the time, the Female Protagonist (in this case, Felix's girlfriend Kitty) has been kidnapped by the Villain (in this case, the Professor), and it falls to the Main Character (in this case, Felix) to rescue her. Oh, the Professor's motivation is that he wants Felix's Magic Bag.
The Magic Bag is Felix's gimmick in the cartoons. It's somewhat anthropomorphic, and can turn into anything Felix happens to need. And thus, it is your main weapon in the video game. You start with the ability to run, jump and duck, and make the Bag shoot one of those spring-loaded boxing gloves to hit things directly in front of you. It is your "melee weapon," if you will. As you travel through the game, you'll find magic hearts popping out here and there. A heart upgrades the Magic Bag. From the boxing glove, a heart will give you a magic hat and wand, which allows you to shoot stars in a circle around you. It's still a melee weapon, but it surrounds you instead of firing straight ahead. The next heart turns the Bag into a car, which honks its horn to fire a sonic blast a short distance away, thus giving you your first "projectile weapon." A third heart turns the car into a tank, which shoots a big ball in an overhand arc, which then bounces a short distance. Any hearts you get after that are 1-ups, which is cool, and also refill the tank's hearts, which are described in the next paragraph.
These upgrades also serve as your life meter. Each time an enemy hits you, you get knocked back to the previous weapon level. If an enemy hits you when you're down to your bare boxing glove, you die. Additionally, with each weapon, you get a ten-heart meter (see?). This meter depletes over time, at a rate of one heart each five seconds, but you can refill it by collecting the bottles of milk that pop out of nowhere. If the meter runs out, you get knocked back to the previous weapon level, albeit with a fresh ten hearts.
Some levels are a bit different. There are aerial levels, in which you can tap the A button to go up, and in which the weapon progression goes from umbrella-and-boxing glove to hot air balloon-and-frisbee to airplane-and-shooting propellor. There are levels on the surface of water, in which you start with a small raft-and-boxing glove and can upgrade to a wavy-projectile-shooting dolphin. There are underwater levels (again, tap the A button to swim), which start with a snorkel-and-boxing glove and goe to bubble-shooting sea turtle, then jellyfish-shooting submarine. Finally, there is a rather cunning space level, in which you drive a little spaceship. More on that later.
So there are hearts and milk bottles, the latter of which jump out in groups of three. Since this game was made by Hudson, the items pop out of certain locations when you pass through them, so you don't know where something will appear unless you've played the game a lot and have memorized the locations. Also included are some Felix icons, which are scattered throughout each level, and from which the hearts and milk often pop. Guess what happens when you collect 100 of them. Go on, guess. And then there are some hidden 1-ups, which I will tell you how to find in the "Tips & Tricks" section so I can pad it.
The game keeps score, and it has a timer. Blah blah blah. Nothing you haven't seen a zillion times before. It has nine levels, all but one of which are divided into three sublevels, in the tried and true "X-Y" format. Each third level has a boss, which generally stays on the right side of the screen and shoots at you while you shoot it back. Some of them move up and down, and some of them occassionally move left and right, but it's really just a matter of shooting them when they stop flashing from the previous hit while avoiding their projectiles. They are characters from Felix cartoons, including Poindexter, Master Cylinder, a blob, Rock Bottom, and a Felix clone. Since there are seven bosses before the Professor, and five characters listed there, Poindexter and Master Cylinder get reused. And yes, my math is correct. There are eight bosses in nine levels. When you beat each boss, you get 10000 points for each level you've finished. So 10000 for Level 1, 20000 for Level 2...
THE GOOD:

There is nothing outright offensive here.

Level 8 is pretty cool. It's the spaceship one I mentioned. It's an automatic scrolling level, in which you pilot a spaceship. The spaceship has a heart meter, but there is no weapon stage below it. If the hearts run out, you die. So, while the level is scrolling for you, you have to dodge and/or shoot asteroids and UFOs while scouring the place for heart-restoring milk and hearts to keep alive. It's a neat level.

When you pause the game, the Felix-face representing your remaining lives and the Felix icon representing how many of them you've collected both fall asleep. Nice touch.

As a cartoonist, I love the expression on Felix's face when he dies.

Kitty is kinda hot.

THE BAD

I basically finished the game in one sitting by running through it half-assedly and doing the minimum required to kill or dodge foes. It was my first time playing it, and I finished it with 22 lives to spare, without even using my emulator's ability to save and restart at any point. Doesn't say a whole lot for its challenge rating.

The highest-level weapon, the tank, actually kinda sucks due to the difficulty in aiming its weapon.

The graphics are... passable. The sound is weaker. Music aside, it all starts to blend together into a generic collection of bleeps and bloops of the sort you might hear coming from a Game Boy in an early-90s sitcom that didn't give a shit about making the video games its characters were playing sound real.

The bits between levels make no sense. See, between most levels, there is a cutscene in which the Professor calls Felix on the phone and tells him how much more pissed off he's getting as Felix progresses. So answer me this: if Felix is making so much progress, why does he always seem to be at home? Also, Felix jumping up and down in anger during this scene is the lamest animation ever.

Felix the Cat is such a wacky character, in such a wacky world. It seems to me that he deserves something better than a generic platform-jumping, coin-collecting, side-scrolling, princess-rescuing game like this. But then, it was 1992. What more can we expect?

TIPS & TRICKS

Each level's background is full of images of the Professor's head (Kitty's head too, but that's not important). Some of them can be hit by your weapon. Hit those special ones enough, and a 1-up will bounce out.

If you happen to care about points, it is possible to hit an enemy that you've already killed as it arcs up before falling offscreen. Each time you hit it, it's worth the same amount of points you got for killing it initially. By "juggling" defeated enemies this way, you can score extra points. It's especially easy with the magic wand upgrade.

Almost every level has a large Magic Bag in it somewhere that you can go down into like a pipe in Super Mario Bros. Each one contains some Felix icons, and usually a heart and some milk. Some are also shortcuts to a later point in the level. They weren't even trying to hide the inspiration, were they?

FINAL ANALYSIS
Well, it isn't overly bad or overly good. Like so many NES games of the late 80s to early 90s, it's just kind of... there. It doesn't hurt you if you don't play it, but it also doesn't hurt you if you do. I really wish I had allowed myself a middle-ground betweem "thumbs up" and "thumbs down," because this game would fit there perfectly. As it is, since it is not terrible and it contains Felix...

Thumbs up for Felix the Cat.

SCREENSHOTS

Yay! I beat a boss!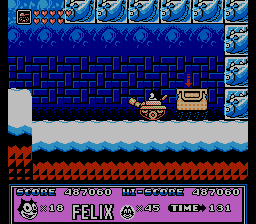 The tank sucks.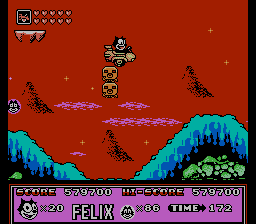 The car is better.

A submarine shaped like Felix's head, which shoots jellyfish.

Hmm... tied up, enamored catgirl...