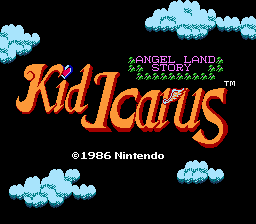 Kid Icarus is, in many ways, the bitch of the ancient NES games. Unlike Super Mario Bros. or Metroid, Kid Icarus was never really revisited. There was a sequel released for the Game Boy, but that was it. Its hero hasn't been in any Super Smash Bros. games, except as a trophy. As far as I can remember, it wasn't even featured in WarioWare, instead forced to wait for WarioWare Twisted! to get its due. Its only moment of glory was in the horrid cartoon "Captain N: The Gamemaster," where the hero, Pit, was renamed Kid Icarus and saddled with the unfortunate gimmick of adding the suffix "-icus" to everything he said, while one of the game's incidental enemies was made one of the main villains. All this is a shame, because Kid Icarus is actually a rather good game.
Without the instruction manual, it's hard for me to tell you the exact story behind Kid Icarus. It takes place in Angel Land, and you are Pit (not Kid Icarus), and the villain is Medusa. My guess is that Medusa has turned the guardians of Angel Land, the centurions, into stone, and so it's up to the littlest angel, Pit, to free them and defeat Medusa. To do this, he'll need to gather three treasures that will enable him to effectively combat her. I figured all that out just by playing the game. Whee!
THE GAME
Kid Icarus is divided in the typical 80s NES adventure way, which is a series of worlds made up of sublevels, presented in the X-Y format. As is also typical, each world has four sublevels, the last one being the boss stage. There are a total of thirteen levels: 1-1 through 1-4, 2-1 through 2-4, 3-1 through 3-4, and 4-1. Worlds 1 and 3 scroll mostly upward, and world 2 scrolls mostly from left to right. The exception is the fourth sublevel in each world, which is a dungeon, and has its own rules. World 4 is also an exception of its own, in a way. It scrolls left to right, but... well, I'll get to that.
So you can move and jump and crouch and shoot arrows, and you can also shoot upward. You can't shoot low while crouched, though, and crouching on thin platforms causes you to fall down through them, which very often sucks. Pit has wings, but can't fly. Yet. Ooh. Also, your arrows only travel a short distance. Yet. Ooh. Nintendo, at this point, had a fetish for making shots that could travel all the way across the screen a power-up luxury (See also: Super Mario Bros.; Metroid; The Legend of Zelda).
This is one of those NES games that only works one way. In the upward-scrolling worlds, you die if you fall down, and in world 2, you just can't go back to the left. Additionally, all doors can only be entered once; they are sealed after you leave them, though they do reopen if you die and have to start over.
Kid Icarus is deceptively deep. It actually incorporates some elements of an RPG, though not entirely obviously. It just looks like a primitive side-view action adventure game at first, but check it out. The enemies you kill are worth points, but you only get the points at the end of each level. And at certain plateaus, your life meter increases. The points are not a method of keeping score, but are in fact XP. Also, each and every enemy you kill leaves behind a small heart, a large heart, or half a large heart. Instead of refilling your life, hearts are money: a small one is worth one, a large one is worth ten, and half a large one... I'll let you guess. In the various stores you can find in each level, you can buy things with your hearts. The items are generally pretty expensive, but useful. Bottles which refill your life a bit when it runs out, feathers that let you fly back onscreen when you fall down, that sort of thing. There are also hammers, the use of which is not obvious. I'll explain them in a minute.
There are five other types of room:
There's a room full of little flying monsters, each of which leaves behind a large heart.

There's a healing bath, which refills your life.

There's a room that contains a guy who gives you an arrow, which increases your attack power. It also makes you change colour.

There's a gambling room, in which you're given a selection of pots to break. Each costs five hearts, and one contains a monster called a reapette. All the others contain either a large heart or a hammer. You can break all the pots you want, but as soon as you collect a heart or hammer, the rest of the pots disappear. And if you uncover the reapette, you lose everything you uncovered.

There's a challenge room where you have to survive an onslaught of flying bricks, and if you do, you get your choice of one of three special power-ups. One is a fireball that travels with your arrow in an up and down pattern like the wave beam from Metroid. One lets your arrows travel all the way across the screen (ooh!) and faster. One is a pair of little crystals that circle around you and help prevent damage by blocking projectiles and damaging foes. Sadly, there are enemies that can take these power-ups away, and you'll have to either earn them back, or buy them at exhorbitant prices from a black market. Some stores are black markets, by the way.

Before I move on, I'll note that many enemies are infinite. Some appear in set locations and don't come back, but many just keep coming as long as you're in a certain section of a level. They tend to come in groups of four or five. So don't stand there and think you can stop them if you kill them enough, 'cause it don't work that way. It is a nice source of points and hearts, though.

Okay, so that's all the scrolling levels. The fourth level in each world, the dungeons, are a completely different game.

First of all, those fireball/long-range arrow/shield power-ups don't work in the dugeons. Just because. Second, the dungeons go screen-by-screen, like Zelda or Faxanadu, and you won't die if you fall down. You'll just end up in the room beneath you. There are doors leading left and right, and there are ladders (or holes) leading up and down, the holes serving as one-way trips.

Dungeons have some power-ups of their own. One is a map, which gives you a blank piece of paper that isn't really any good on its own. Then there's a pencil, which marks the rooms you've been in as green on your blank piece of paper, thus letting you build a very very crude map. It doesn't show paths between rooms, like the maps in Zelda do, so it really only serves to show where there are potentially rooms you haven't been in yet. Third is a torch, which marks your current location on your shitty map. Given that the map is so crude that you'd be better off drawing your own, that's actually the most handy of the three, since you can quickly track where you are on the map you're drawing.

Also in dungeons, you'll find hospitals, and those are important, because they save you from one of the most famous and annoying enemies in video game history: The Eggplant Wizard. Eggplant Wizards throw eggplants, and if you get hit, you turn into an eggplant, which robs you of your ability to shoot. The only cure is to go to a hospital, where the nurse will remove the curse. She won't refill your life, though. Fortunately, dungeons all contain at least one healing bath as well.

Dungeons have statues, too. Remember those hammers you've been collecting? In dungeons, you can press Select to switch your weapon to a hammer, and you can use a hammer to break a statue (which uses up the hammer, naturally). Out of the statue comes a centurion, who flies away. Yay. But the centurions come in handy later, in an innovation I'm not sure I've seen in a video game since. When you reach the boss of each dungeon, the centurions join you. A set of three will fly down to hover over you, shooting arrows of their own to aid you in your battle. They die when hit, but once all three are gone, three more will replace them, until all the centurions you freed are used up. When you defeat the boss, you get one of the three treasures, and you move on to the next world. So there are three dungeon bosses, and the game helpfully supplies their hit points in the lower-right corner of the screen:

TWINBELLOWS: A two-headed dog that breathes fire. Just shoot it a lot.

HEWDRAW: Your elongated dragon that jumps around from pits of lava over which there are platforms and is only vulnerable in its head. Every game has one. If you can avoid it (which is easy), it's just a matter of shooting it enough.

PANDORA: A floating blob that can turn black. The background is black, too, so it's primitive NES invisibility. There are two little bubbles that bounce around the screen too, so you'll have to avoid those while tracking down Pandora. You'll notice that Pandora sometimes overlaps the room's walls or platforms, even when black, and you can see it's outline over said walls or platforms, so you can track it down easily. Pandora isn't invincible when invisible, so shoot all you like.

All this brings us to the last stage: 4-1. In world 4-1, Pit uses the three treasures, which are a better bow that shoots long-distance arrows that travel through enemies they hit, a mirrored shield that doesn't do anything, and wings that let him fly. For world 4-1, the game becomes an automatically side-scrolling flying shooter like Gradius. It seems to be an extra long level, too, though it might just seem longer because you don't control your pace. And at the end...

MEDUSA: She's a big one-eyed head that takes up the right wall, shooting snakes and eye lasers. The eye is the vulnerable point. There is a safe spot that makes this the easiest boss battle of them all. I won't tell you exactly where it is, but given that you have to be lined up horizontally with the eye to shoot it, there are only so many possibilities.

And then the game starts over. It's mildy more difficult, but you start with all the hearts, XP and power-ups you had at the end of the game, so it's easier. Hm.

THE GOOD:

Control is mostly inoffensive.

As I said, there is a lot of hidden depth for such an ancient game.

The dungeon portions of the game are great. They should make a new Kid Icarus that's all dungeon-crawling.

In the passwords, lower-case letters are blue, and upper-case letters are white. I don't know if that's really helpful, but I like to think it is.

What I particularly like about worlds 1 and 3 is that each side of the screen wraps around to the other side, and this fact is used in the level's design. It's quite common to have to jump to a platform, then move off the screen so as to appear on the other side, then jump to another platform there. It's like ascending a tower. (Castelian would have been a hundred million times better if it had been built like this, but then again, Castelian is the Worst NES Game Ever, so it's hard not to improve it.) Moving platforms will frequently just travel in a straight line, off one side of the screen and out the other. It's a minor and obvious thing, really, but I like it.

THE BAD

The difficulty at the beginning of the game is crippling. You start so weak that it takes epic effort to make progress, and it'd be a lot easier to turn it off in disgust. Once you reach the 20,000 point plateau and get a second bar to your life meter, things get a bit easier. But...

Here's Kid Icarus's monstrous flaw: Life is very hard to refill. You'll be lucky to find one life refill per stage, and it'll often be Water of Life, which only refills about one bar of your life meter. Furthermore, the game doesn't fill up your life when you start a new stage. Further furthermore, that Water of Life will often be close to a door leading to a room full of enemies. And once you know that the room is full of enemies, it's tempting to save the Water until you've battled through the onslaught. But when you enter a door, all the enemies and items on the screen you left disappear. So if you don't collect that Water right away, it'll vanish. The only parts of the game where staying alive isn't horrendously challenging are the dungeons, and even then, you have to trek halfway to Hell to find the healing bath, a trek that could kill you before you get there, or reduce your life again by the time you get back to where you were when you decided that you needed healing. Bottles and barrels (which let you hold eight bottles) can help keep you alive, but cost a fortune. Yeesh.

The mapping system in the dungeons sucks balls.

That thing where you crouch and fall through platforms is real annoying, especially in the upward-scrolling levels where falling means death.

TIPS & TRICKS

In the gambling room, if you break all the pots that don't have the reapette inside, you can safely break the last pot. Instead of a reapette, there will be a valuable item usually only available for a small fortune in a store.

There are a number of good passwords. Some famous ones are:

ICARUS FIGHTS
MEDUSA ANGELS

MEDUSA FIGHTS
ICARUS ANGELS

8uuuu uuuuuu
uuuuuu uuuuuu

DANGER !!!!!!
TERROR HORROR

Finally, this one isn't famous, but it's quite good:
6eW3!! !!!!00
F38W!H C0042N

FINAL ANALYSIS
If you can survive the first few levels and get that increase to your life meter, Kid Icarus turns into a very good, underappreciated game. If only refilling your life wasn't such a chore. Thumbs down for the first three levels due to their overwhelming difficulty, but thumbs up for the last ten, equals...

Thumbs up for Kid Icarus.

SCREENSHOTS

Eight enemies that respawn infinitely in the third level of the game with only a one-bar life meter? No problem!
Also, you can see the wrap-around level design I was talking about here.

Thanks for refilling my life before I entered this dungeon that contains a boss, game designers!

EGGPLANT WIZARDS!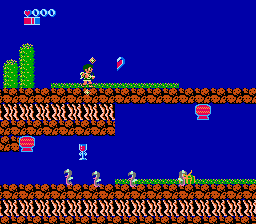 Check it out. They give you a choice. You can take the low road here, and collect one of the level's only life refills...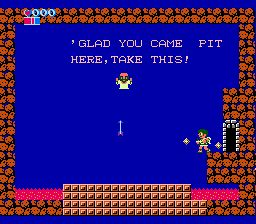 ...Or you can take the high road, and get this attack strength power-up.
Refill your life and get a necessary power-up? That's just crazy talk!

Another compare and contrast. Behind door number one, a gambling room, where I was fortunate enough to get a bottle. Notice where my life meter is at...

...And behind the very next door, a squadron of enemies! Notice that my life is a little bit higher now?
That's because I just took a hit that ate up the sliver of life I had left, which caused me to use my new bottle right away.