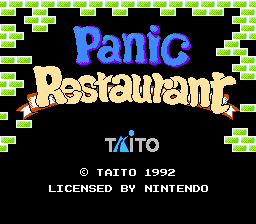 You're a chef, apparently named Cookie. One day, rival chef Ohdove throws some food at you and says he's taken over your restaurant, Eaten. Now you have to win it back. There's the story. It took Taito eight million dollars to come up with that.
Panic Restaurant dates from an awkward time in the history of the NES: 1992. The Super NES had just appeared, and though Nintendo assured NES owners that their system would continue to be supported, it would actually only last another year. Though the Sega Genesis and Turbographix 16 had been around for awhile, and though Atari had gone from 2600 to 7800, this was the first time a currently successful video game system was upgrading to new hardware. As a result, the third-party companies who had gotten rich off the NES were climbing over themselves to shift focus to the Super NES, and the NES was being left more and more obviously behind. Panic Restaurant is a relic from that confused time: a video game that the designer half-assed all the way through, because the future was in the next room with Yoshi.
THE GAME
It's a side-view platform game that scrolls in whatever direction you happen to be moving. Six levels, each with an approximately five-minute time limit. The levels are parts of the restaurant, and are populated with anthropomorphic food items which will try to kill you.
To fight back, you have a frying pan you can whack things with. It's not much, but at least you can swing it quickly enough to be effective, unlike some video game frying pans I've seen (I'm looking at you, Conker's Bad Fur Day). You can also obtain a spoon, fork and dish as you go. The spoon is bigger than the frying pan, but works very much the same way. The dishes are a projectile weapon which are thrown in a downward arc a short distance. And the fork... the fork works like a pogo stick, allowing you to "stomp" on your foes. You can only hold one weapon at a time - collecting a new one overwrites the old - and if you get hit, you lose the weapon and default back to the frying pan. Also worth noting at this point is that any power-ups you grab don't respawn if you die; you only get one shot with each of them. Along with weapons, Panic Restaurant has the typical platform game power-ups: candies to refill your life, lollipops to fill and extend it, a chef's hat for an extra life, and a pot to make you temporarily invincible.
Each enemy you kill drops a coin. At the end of each level, you can use the coins in a slot machine to win points, lives or life. You have a choice: use all your coins, or lose them. Makes one wonder why the slot machine portion isn't more automated. Anyway, you use up to five coins in each run of the machine, and if you have five available, you have to use them all. Not that that's really bad, since each coin gives you another line with which to win.
Each of the levels is named after a course of a meal: Appetizer, Soup, Salad, Fish, Meat and Dessert. Very clever. Each one has a different sort of theme (outside, icy freezer, etc.) and each one ends with a boss:
JIFFY-POP TYPE POPCORN THING: It bounces from left to right, pausing occassionally to rush across the floor. Every time you hit it, it swells a bit, until it finally bursts forth deadly popcorn. It only does that once, though. The second time you make it blow, it dies.
MICROWAVE: This one bounces around as if to crush you, and occassionally pauses to shoot some chickens at you. The chickens can be batted away, and the microwave itself is easily killed with a few hits.
WOK: It stays on a platform near the top of the screen whole shrimp rain from the heavens. When enough shrimp have fallen into the wok, it shoots them all over, jumps to the bottom of the screen and runs back and forth there, shooting some more. Then it repeats. So you avoid the shrimp and hit it a lot. Hm.
HAMBURGER: Probably the hardest boss in the game. It's a vulnerable, seasoned all-beef patty, resting between two halves of a sesame seed bun. It bounces around a couple of times, then fires its bun-halves in either direction and off the screen. Then they fall back down near the patty and reassemble to do it again. The problem is that Cookie is so damn slow, you can't hit the patty while its frozen and hope to avoid the falling buns. So you have to risk hitting it while it bounces. Not overly easy.
ICE CREAM CONE: First, it throws its extra scoops of ice cream at you. Then it starts bouncing (this seems to be a trend) and drilling away pieces of the floor. So you hit it a lot. This also seems to be a trend.
OHDOVE: I don't want to give away the secrets of the final boss, but it just may involve hitting him a lot. I can confirm that there is no bouncing, however.
THE GOOD:

The graphics are nice, as this was when the NES was at its pinacle. Even though the scale is completely fucked up. They didn't seem to care about making it realistic, just as long as every possible thing is food-based. That isn't enough to call a "bad," though.

Control is okay.

THE BAD

This game is way, way short. Think about this: it has six levels, and each one has a five-minute time limit. So if you play it properly and don't die, it'll take you half an hour to go through from start to finish. And that's the entire game. There are no hidden boss levels after the basic six, there is no second quest.

I'm not sure what to think of the difficulty. Most of the game is so easy that the hard parts, while tame by most video game standards, appear particularly hard simply by comparison.

You are way too slow, and there is no way to run. That really hurts.

Odd quirk: This game, like many others, has spikes in places that kill you instantly. For some reason, the few seconds of invulnerability you get after being hit don't count toward spikes. So if you get hit and knocked backward into spikes, you die.

Furthermore, invincibility doesn't protect you from spikes. They teach you this by putting a 1-up hat atop some spikes while you're invincible.

The bouncy fork doesn't actually make you jump higher. And since it makes you do nothing but jump, you expect a height increase. Also, you can't bounce from enemy to enemy very effectively at all, because instead of bouncing off of enemies, you drive through them to the ground. And also because the hit detection with the fork licks balls.

Even though you will usually have five possible ways to win each try at the end-of-level slot machine, you rarely actually do win. I think I won something maybe three times in an entire play session, and most of the time it was a single point of life refill. And speaking of...

When you finish each level, you lose whatever weapon you had and go back to the default frying pan. If you don't spend all your coins in the slot machine, you just lose them. So weapons and coins don't carry over. But your life does. This has its good point and its bad point. Good because you keep any extensions you've gained (your life starts at two points, and can easily be brought up to four). Bad because you keep the actual amount of life you had remaining. After you fought a boss. Now there are partial and complete life refills available to be won in the slot machine, but as I said, your chances of winning anything are approximately one in ten, and you'll typically get six or seven chances at each slot machine. Oh, and that's the other thing...

When you die, you lose all your coins. Even if you're restarting the level halfway through, or even if you're restarting at the boss battle. Bosses do spew a bunch of coins, but you can't realistically collect all of them. So if you die while fighting a boss, you get to go into the slot machine with a fraction of the coins that level could have provided, and you get to start the next level with the life you had left after fighting the boss (unless, by some miracle, you won some refill in the slots).

As I mentioned earlier, power-ups only appear once. So, essentially, the game becomes harder the more you die. The first time you try a portion of a level, you might be able to refill your life or get a better weapon. If you die, you have to do it with no refills, and with your bare pan. In addition to losing your coins. Enemies, on the other hand, respawn as soon as you leave a screen. That's not a bad thing by itself, as it is a fairly common video game practice. I just figured I'd mention it for contrast.

The ending is one of the most anticlimactic I have ever seen in a video game. In fact, I'm going to tell you what happens. So if you don't want to know, skip ahead to the next bold text.
The final battle takes place high in the sky on flying frying pans. You throw eggs at Ohdove so's you can pop the balloon keeping his afloat. It pops, he falls off the screen. Then your frying pan explodes, and you fall. On the way down, you grab a balloon to slow yourself, but then it pops and you fall again. You land on the roof of your restaurant, and bounce onto the ground. Then the words "THE END" appear on the restaurant. That's it. I guess you can't expect much for half an hour of work.

TIPS & TRICKS

Um... if you die, your life refills and your timer resets. Since you get points for the time you have left, you'll get more points if you purposely die to reset the timer while fighting a boss. Yay? Remember that you lose your coins, though.

If you jump into the spot on the boss where the coins burst forth when it dies, you can collect more of them.

Man, this game doesn't even have any codes or passwords. I got nothing.

FINAL ANALYSIS
Neither great nor offensive, this game simply has no reason to exist, and you have no reason to play it.

Thumbs down for Panic Restaurant.

SCREENSHOTS

The stage is set. Screw you, carrot seductress!

The fork is shit, really. I bet that shit doesn't even hit the flan.

Those are some freaky big ladles, hm?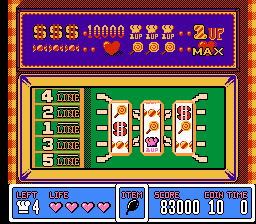 A losing slot machine attempt. Get used to this.

The game's hardest boss: the Hamburger.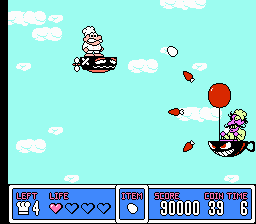 A climactic final battle: carrots vs. eggs.

This is how it all turns out. Worth it.